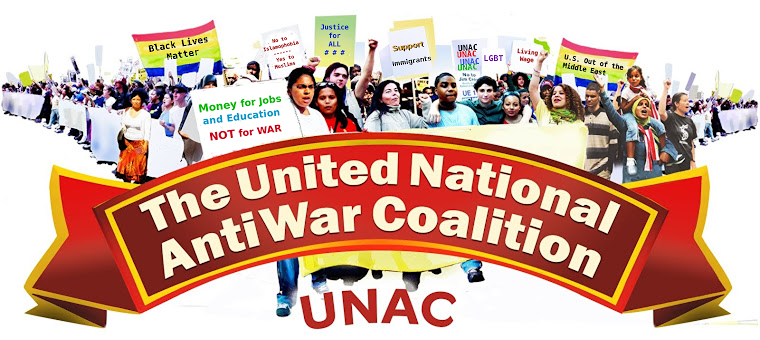 To view this email in your browser, click here
U.S. Hands off Iran! Bring the Troop Home from Afghanistan and elsewhere!
11/27/2020
UNAC denounces the targeted assassination of Mohsen Fakhrizadeh, a top nuclear scientist and Trump's approving Tweet. This confirms the U.S. and Israeli determination to sabotage every possible effort for peace or normalization of relations with Iran or in the region
Again and again Iran scientists have been targeted. More than 5 scientists were assassinated in past years. The targeted assassinations and the economic sanctions are a continuing effort to deprive developing countries of scientific capabilities and development.
The multi-pronged attack involved at least one explosion and small fire by several assailants.
It is understood internationally to prevent any effort to revive diplomacy with Iran to go back to the nuclear agreement. It is intended to heighten the rage and create excuses for continued U.S. military occupation of the entire region.  [read more]
UNAC Statement Against Censorship
and for
Freedom of Speech and Press
11/26/2020
Glenn Greenwald recently quit the Intercept, a news outlet which he founded.  He quit in protest because they refused to print an article he wrote that was critical of Joe Biden.  It appears that censorship is becoming the norm for the US media and on social media platforms.  Greenwald, who now publishes his own blog at https://greenwald.substack.com/, wrote that a recent article in the New York Times demanded that Facebook, Twitter and Google, change their algorithms so that " 'hyper partisan pages' [be] repressed in favor of promoting 'a spike in visibility for big, mainstream publishers like CNN, The New York Times and NPR.'"  That is, they want to censor us in favor of these wealthy outlets that already have a tremendous advantage and are already streamed into households throughout the country.  They want to repress our voices in favor of theirs.  This is the new censorship.
We in the antiwar movement have an important stake in the struggle to protect and extend freedom of speech.  As the town squares, where our movement once soapboxed our message to all who would listen, have disappeared into privately owned malls and as privately owned social media platforms have started dominating over all other media, we are seeing the privatization of freedom of speech.  Twitter, Facebook, Google, YouTube, Amazon and others make corporate decisions on which posts are valid and which are not. [read more]
Please support UNAC's end of the year fund appeal.
We depend complete on our supporters to keep UNAC going.  We are a coalition of peace and justice organizations and 2020 is our 10th anniversary.  We are not funded by any outside organizations or NGO's. Our movement needs to be able to support itself,
As we go forward, it is clear that a coalition that brings groups together to work on issues that we all agree on is a very important tool to bring about a world of peace and justice.  Please donate what you can by selecting the button below.
Here are our latest Blog entries: