by Phil Wilayto, published on The Virginia Defender Facebook Pg, October 16, 2023
RICHMOND, VA, Oct. 15 — As the Israeli military prepares to launch a massive invasion of the Gaza Strip, where some 2.3 million Palestinians are trapped in what has been called the world's largest open-air prison, more than 1,000 people marched today in Richmond to demand an end to U.S. support for Israel in an action sponsored by American Muslims for Palestine.
The crowd, overwhelmingly Arab and young, gathered at Monroe Park to hear a few speeches before taking to the streets. Addressing the crowd were Zaid Mahdawi, president of the Richmond chapter of American Muslims for Palestine, which he founded in March of this year; Sereen Haddad, a 19-year-old Palestinian student who has many relatives living in Gaza; and Bilal Quraishi, an alumnus of the Virginia Commonwealth University Muslim Student Association and now the Muslim Life Chaplain for the organization.
Then it was time to march. Waving what looked like a sea of red, green, black and white Palestinian flags, the crowd moved north on Belvidere, then west on Broad Street, attracting many gestures of support from pedestrians, passing motorists and residents looking out from their windows. Many of the marchers held handwritten signs denouncing the occupation of Palestine and demanding an end to U.S. support.
While the crowd was largely Arab, there also was support from other communities.
Nancy Wein, a Jewish woman with Richmonders for Peace in Israel-Palestine, held a sign that read, "Israeli apartheid is not my Judaism." Members of Hampton Roads for Palestine drove up from Norfolk with a beautiful banner that read, "Stop U.S. Aid to Israel – End the Occupation – Free Palestine – End the Siege of Gaza." Popular blogger and WRIR radio host Goad Gatsby was there to cover the event. And the Virginia Defenders for Freedom, Justice & Equality passed out signs that read, "Self-determination for Palestine! – Stop all U.S. 'Aid' to the Israeli Apartheid State!"
After the march, the Virginia Defender spoke with protest organizer Zaid Mahdawi.
"The purpose of today's protest was to shine a light on two things," Mahdawi explained. "First, what is going on in Gaza at this moment, with innocent human lives being lost every day with the siege of Gaza and the occupation of the rest of Palestine."
"And second, to shine a light on the duty of every single one of us to act against the occupation, day in and day out. They have their foot on the necks of the people of Palestine. They treat them as second-class citizens. We fund that here in the U.S.A. and we need to stop."
"We need to raise awareness about how much the U.S. funds Israel and how much that amount of funds that goes to the occupation could go to solve the serious social crises here at home, like homelessness and hunger."
"So we are calling for ending all U.S. aid to Israel. We want to get people to contact their representatives and senators to demand that all funding of the occupation stop."
"As a collective country, we are paying for bombs to be dropped on Palestine."
Israel is the largest recipient of U.S. foreign aid, receiving $3.8 billion each year. President Biden, U.S. Senators Tim Kaine and Mark Warner and Virginia Gov. Glenn Youngkin all are calling for the U.S. to send more money now, without restrictions on how it may be used.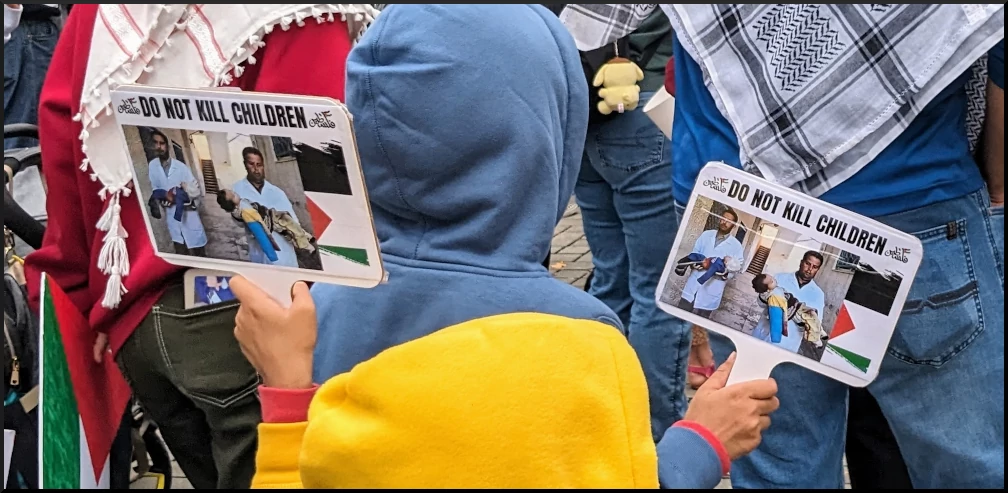 For the record: The Richmond Times-Dispatch did NOT cover this obviously newsworthy event. It covered the Richmond Folk Festival, but not the fact that more than 1,000 people took to the streets to say they don't support what Israel is doing to the people of Gaza. And the RTD also failed to cover the Oct. 7 People's Tribunal on Virginia's Prisons, Jails & Detention Centers. THIS is why we have our own newspaper. 19 years of volunteer labor.
Photos: See accompanying photos, by Ana Edwards & Phil Wilayto.