Call initiated by the One State Assembly, February 9, 2019

(Ver en español,  Voir en français)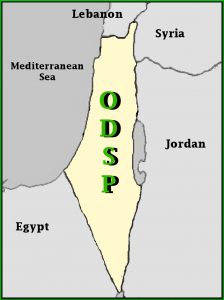 We are calling for signatures on the statement to create national and global public opinion specially among Palestinians, Arabs and international supporters about the genuine, just and long lasting solution to the seven decades of the ethnic cleansing war and catastrophe of 1948. The One Democratic State  of Palestine (ODSP) initiative stands in opposition and objection to the dead solution of the two states, the Oslo Accords and exposing the latest racist Nation-State Law that was issued by the apartheid state of Israel which emphasizes the real nature of this manufactured colonial state.
This is a crucial time in the history of our struggle, which needs all activists, individuals and organizations, to consolidate and coordinate their efforts in an organized manner to make an impact, make a difference towards the only solution that guarantees the right of return and deals with our people as one united nation on one united homeland: the One Democratic State of Palestine.
Signatories include: Richard Falk, Alison Weir, Ann Wright, Cindy Sheehan, Tariq Ali, Paul Larudee, Kevin Zeese, Joe Lombardo, Tim Anderson, Amal Wahdan, Judith Bello, Ken Stone, Issa Chaer,  Ali Mallah, Alicia Jrapko …..
Endorsers: Free Palestine Movement, Palestine Solidarity Forum (India), Syria Solidarity Movement, International Committee for Peace Justice and Dignity, Hands Off Syria Coalition, Hamilton Coalition to Stop the War, United Front Against Facism and War (Canada), Communist Reconstruction (Canada), Palestine Solidarity Association/University of Western Cape (South Africa), India Palestine Solidarity Forum, Venezuela Solidarity Network, Free Palestine Movement, Akashma News, Media Review Network,  Solidarity Net, Kenya, Human Rights in the Middle East, Cleveland Peace Action

Call for A Palestine Liberation Movement and One Democratic State of Palestine
Read the Petition