Call initiated by the One State Assembly, February 9, 2019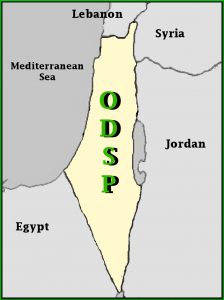 We are calling for signatures on the statement to create national and global public opinion specially among Palestinians, Arabs and international supporters about the genuine, just and long lasting solution to the seven decades of the ethnic cleansing war and catastrophe of 1948. The One Democratic State  of Palestine (ODSP) initiative stands in opposition and objection to the dead solution of the two states, the Oslo Accords and exposing the latest racist Nation-State Law that was issued by the apartheid state of Israel which emphasizes the real nature of this manufactured colonial state.
This is a crucial time in the history of our struggle, which needs all activists, individuals and organizations, to consolidate and coordinate their efforts in an organized manner to make an impact, make a difference towards the only solution that guarantees the right of return and deals with our people as one united nation on one united homeland: the One Democratic State of Palestine.
Call for A Palestine Liberation Movement and One Democratic State of Palestine
Read the statement
Latest Signatures
103
Ms Omar A.
Feb 16, 2019
102
Ms Trich D.
Feb 16, 2019
101
Ms Marlene O.
Feb 16, 2019
100
Mr Mahmoud O.
Feb 16, 2019
99
Ms Deborah A.
Feb 16, 2019
98
Ms Wasim H.
Feb 16, 2019
97
Miss Adriana B.
Feb 16, 2019
96
Mr Dawid K.
Feb 16, 2019
95
Dr. ZAKIA B.
Feb 16, 2019
94
Mr Chris P.
Feb 16, 2019
93
Dr. Jamal M.
Feb 16, 2019
92
Dr. J. M.
Feb 16, 2019
91
Mx. J. M.
Feb 16, 2019
90
Mr YAKOUBI L.
Feb 16, 2019
89
Ms Heidi N.
Feb 16, 2019
88
Mr Saeid S.
Feb 16, 2019
87
Dr. Ensiyeh N.
Feb 16, 2019
86
Ms Wendy R.
Feb 16, 2019
85
Ms Csilla K.
Feb 16, 2019
84
Ms z.s. a.
Feb 16, 2019
83
Ms Donald L.
Feb 16, 2019
82
Ms LINDA A.
Feb 16, 2019
81
Ms Foroozandeh S.
Feb 16, 2019
80
Mx. Free Palestine Movement F.
Feb 16, 2019
79
Mr Homer F.
Feb 16, 2019
78
Mr Sami B.
Feb 15, 2019
77
Ms Denise R.
Feb 15, 2019
76
Mr dan r.
Feb 15, 2019
75
Mr Charles B.
Feb 15, 2019
74
Dr. james s.
Feb 14, 2019
73
Mr Kevin Z.
Feb 14, 2019
72
Ms Samiha B.
Feb 14, 2019
71
Mr Paul L.
Feb 14, 2019
70
Mr Fahad A.
Feb 14, 2019
69
Mr Kal A.
Feb 14, 2019
68
Ms Audrey B.
Feb 14, 2019
67
Ms Hedda H.
Feb 14, 2019
66
Ms Roberta S.
Feb 14, 2019
65
Mr Darell Y.
Feb 14, 2019
64
Mr Luk V.
Feb 14, 2019
63
Ms Anne C.
Feb 14, 2019
62
Mr Mohammed H.
Feb 14, 2019
61
Ms Lynne R.
Feb 14, 2019
60
Mr Adolph S.
Feb 14, 2019
59
Mr Don S.
Feb 14, 2019
58
Ms Betty P.
Feb 14, 2019
57
Ms Beverly W.
Feb 14, 2019
56
Ms Jeanette W.
Feb 14, 2019
55
Ms Teresa G.
Feb 14, 2019
54
Ms Lois J.
Feb 14, 2019
< >