Convocatoria iniciada por la Asamblea del Estado Único, 9 de febrero de 2019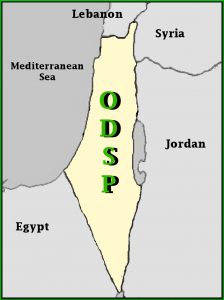 Pedimos que se firme la declaración para crear opinión pública nacional y mundial, especialmente entre los palestinos, los árabes y los partidarios internacionales, sobre la solución auténtica, justa y duradera de las siete décadas de la guerra de limpieza étnica y la catástrofe de 1948. La iniciativa del Estado Único y Democrático de Palestina (ODSP) se presenta en oposición y objeción a la solución muerta ya de dos Estados, los Acuerdos de Oslo, y pone al descubierto la última Ley racista sobre el Estado Nacional que fue promulgada por el Estado de apartheid de Israel, que pone de relieve la verdadera naturaleza de este Estado colonial manufacturado.
Este es un momento crucial en la historia de nuestra lucha, que necesita que todos los activistas, individuos y organizaciones, consoliden y coordinen sus esfuerzos de manera organizada para lograr un impacto, marcar la diferencia hacia la única solución que garantice el derecho al retorno y tratar con nuestro pueblo como una nación unida en una patria unida: el Estado Democrático Único de Palestina.
Lista inicial de adherentes: Movimiento por una Palestina Libre, Foro de Solidaridad Palestina (India), Movimiento de Solidaridad Siria, Frente Unido contra el Fascismo y la Guerra (Canadá), Reconstrucción Comunista (Canadá), Manos fuera de Siria, Coalición Hamilton para Detener la Guerra, Coalición Manos fuera de Siria.
Free Palestine Movement, Palestine Solidarity Forum (India), Syria Solidarity Movement, International Committee for Peace Justice and Dignity, Hands Off Syria Coalition, Hamilton Coalition to Stop the War, United Front Against Facism and War (Canada), Communist Reconstruction (Canada), Palestine Solidarity Association/University of Western Cape (South Africa), India Palestine Solidarity Forum, Venezuela Solidarity Network, Free Palestine Movement, Akashma News, Media Review Network,  Solidarity Net, Kenya, Human Rights in the Middle East, Cleveland Peace Action

Signatories include: Richard Falk, Alison Weir, Ann Wright, Cindy Sheehan, Tariq Ali, Paul Larudee, Kevin Zeese, Joe Lombardo, Tim Anderson, Amal Wahdan, Judith Bello, Ken Stone, Issa Chaer, Ali Mallah, Alicia Jrapko …..
Call for A Palestine Liberation Movement and One Democratic State of Palestine
Read the Petition