Normally I wouldn't post a webinar, but this is special.  Friends of Latin America produced this webinar where 3 women from Nicaragua speak about their experiences with Community policing.  Ajamu Baraka comes in after they speak and talks about how their experiences relate to what is happening now in the United States where people are demanding community supervision of police and defunding of police and even abolishing the police. At the end there is a chance for people vested in these movements to ask questions of the primary speakers.

We hear a lot about what is going wrong here, but not enough about what is working well in targeted nations around the world.

I initially listened to the first speaker with some dismay because she was not followed by a translator, but within a day or two they created an English version where the speakers are dubbed over with English and it is really clear and easy to understand.    [jb]
This is a great video for people concerned with the policing issues in the United States and also those who are interested in knowing what the Sandinista revolution has brought to the people of Nicaragua.
Power to the people! Policing and Caribbean Autonomy in Nicaragua
When the Sandinista People's Revolution triumphed in 1979, one of the first things the revolutionary government did was disband Somoza's repressive military and police force and start new institutions to serve the poor majority in the country. Then in 1987, the country's new constitution established autonomy for the indigenous and Afro-descendant populations of the Caribbean coast region.
In this webinar, moderated by Aline Prata of Whatcom Peace and Justice Center, we hear from three Nicaraguan women – Aleyda Aragón, Lola Esquivel, and Betty Rigby – who have been involved in building community control of the police and autonomy for ethnic minorities in Nicaragua. Then, Ajamu Baraka of the Black Alliance for Peace draws lessons from the Nicaraguan experience to struggles in the US and we hear questions from Lamarra Haynes of Portland African American Leadership Fund and Queshia Bradley of Pan African Community Action.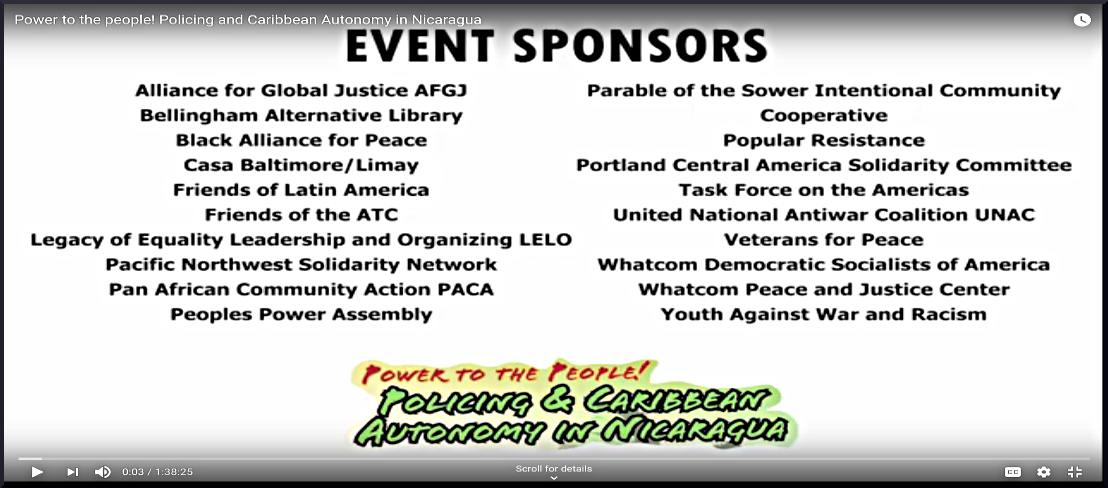 Special thanks to Jill Clark-Gollub and Jazmin Rumbaut for interpretation.