A week in solidarity with Daniel Hale – July 28 – August 3
In 2014, Air Force veteran Daniel Hale blew the whistle on secret watchlists, targeted drone killings, and other abuses in the War on Terror.  The information Hale shared revealed gross human rights violations in the preparation of target lists for deadly attacks where 90% of the people killed were not the intended targets. He was charged under the Espionage Act and pled guilty to one count.

People throughout the U.S. are asked to go to federal buildings, drone bases, public squares and elsewhere in the week following his sentencing – July 28 to August 3 – with signs and banners expressing solidarity with and support for Daniel Hale.
Please take pictures and post them far and wide on social media using the hashtag #FreeDanielHale
Remember to let local media know of your plans, and send them a press release with photos afterwards.

Some suggestions for signs and banners:

* Whistleblowing is Not a Crime
* President Biden: Pardon Daniel Hale
* Free Daniel Hale – Exposed Killer Drone Crimes
* Thank You, Drone War Whistleblower Daniel Hale
* Exposing War Crimes is not a Crime
* Daniel Hale – Hero, not Criminal
* We Stand With Daniel Hale, Killer Drone Whistleblower
* Stop the Killing, Stop the Terror, Stop the Drones
More information about Daniel Hale is at https://standwithdanielhale.org/.

Letters of support may be sent to: 
Daniel E. Hale William G. Truesdale Adult Detention Center
2001 Mill Rd.
Alexandria, VA 22314
Correspondence must be in blue or black ink on white paper.
He will soon be moved to a federal prison. When writing, you can check for his current mailing address at https://standwithdanielhale.org/ and http://www.nukeresister.org/inside-out/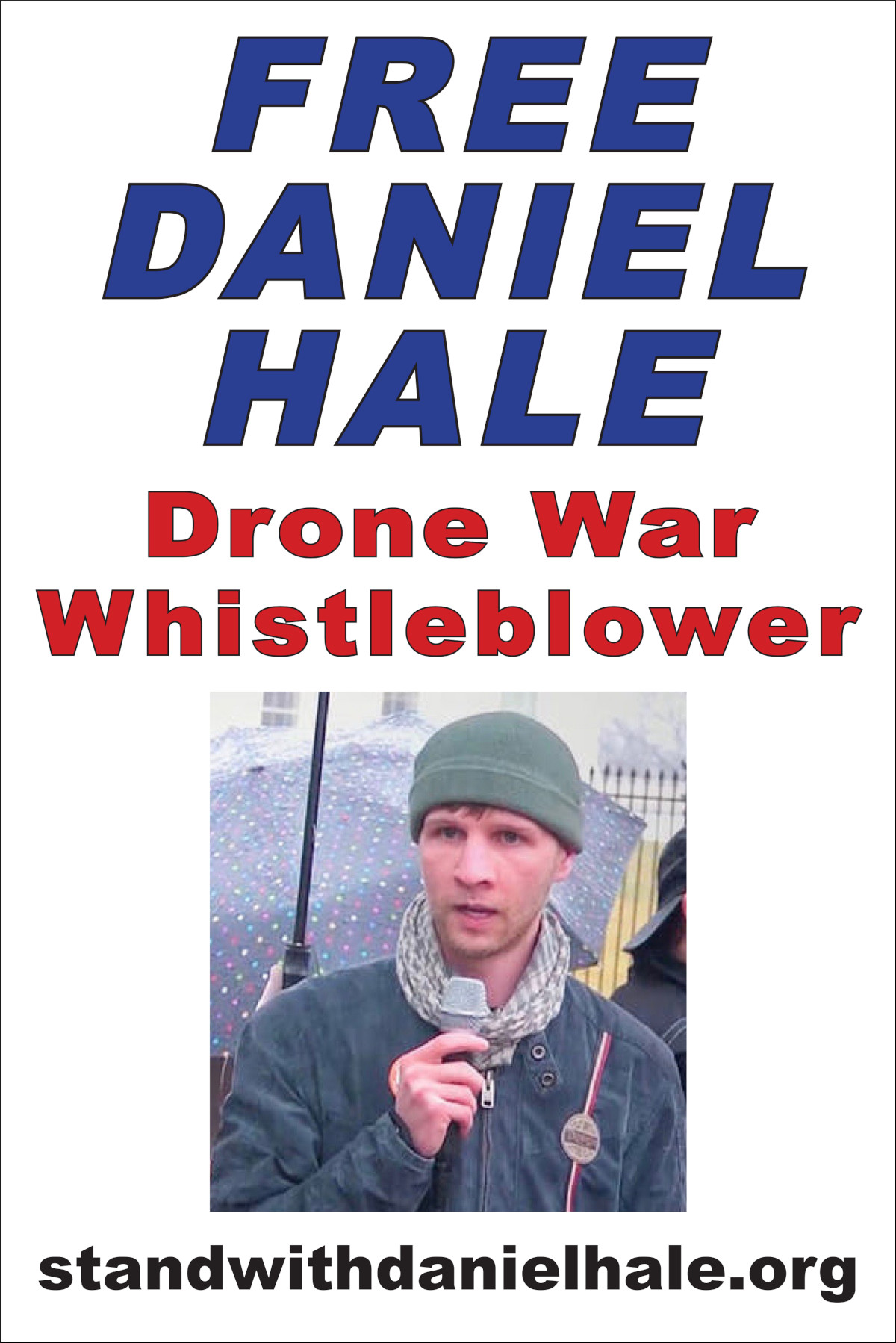 *this flyer taken from email circulated by The Nuclear Resistor