by Lee Siu Hin, published on ImmigrantSolidarity.org, September 8, 2020
The global race to develop COVID-19 vaccine, there are the good, the bad and the ugly.
On August 11th, 2020 Russia announced they had registered the world first COVID-19 vaccine, call "Sputink V", while not yet enter the critical Phase III trail (any drugs need to pass 3-stages Phase I, II, and III trails before it could enter the market), but Russian President Vladimir Putin on the announcement assure everyone that the vaccine is safe and highly effective. It'll be first giving to the medical workers and soon will be widely available in the market by October, 2020; Russia says already 20 countries expressed interest with potential up to one billion doses.
Developed by the Gamaleya Research Institute of Epidemiology and Microbiology, the Russian anti-coronavirus vaccine has undergone a series of trials launched on June 18th 2020, and has proved to be efficient, according to Russian announcement.
On September 4th, 2020 they published a report at the world's prestigious medical journal The Lancet that the Russian vaccine had prompted an immune response without serious adverse reactions in early trials, its good news.
While scientists can have some legitimate questions for the Russian vaccine enter the market too premature, with the safety assurance from the Russian government (that they had developed similar flu vaccine for decades), it should be consider a first-stage breakthrough and joyful moment for the global battle against pandemic
However, instead of sending words of congratulation or constructive suggestions, western media quickly pulling jealous cold water, calling this is a Moscow's "cutting corners on testing to score political and propaganda points", The New York Times claims. The Guardian go further alleged that "Sputnik V's development has been marked by worrying opacity and ethical issues" without offer specific evidence.
Former U.K. Member of Parliament George Galloway quickly and brilliantly responded to the western hypocrisy at the RT America: "It'll be sure if it was a British or American product it'll be rushed to the market." Just like when Soviet Union launch the world first Sputink-1 satellite launched on 1957 that shocked, disbelieve even jealously from the western World, because they thought that the western countries had the most advanced technology will be the first one to control the space. "The impact is exactly the same today," Galloway argues "much of gnashing of teeth and walling and rending of garments; jealously childishness."
There's no surprise that just few weeks prior the Russia's announcement, on July 2020 U.S. had spread baseless accusations against China and Russia of "stealing" U.S. vaccine research data. Instead of joint international efforts for the pandemic fights and the vaccine research, U.S. and the western world choose to do their own and against anyone else to do so.
On August 28th, 2020 just two weeks after the Russian announcement, US Commerce Department announced its sanctions against Russian Defense Ministry Research Institute that worked on the vaccine, and four other Russian research institutes to its sanctions lists, claiming that these institutions are working on chemical and biological weapons without present any concrete evidence, calling them: "to be acting contrary to the national security or foreign policy interests of the U.S." the U.S. sanctions could potentially block Russian sale their newly developed vaccine in the international market, we need to ask: what U.S. "national security" or "foreign policy" interests has broken when already a vaccine can potentially saves tens even hundreds of thousands of people's lives?
Listing by the US Department of Commerce means that the US authorities impose restrictions on the export, re-export and transfer of goods in accordance with the existing regulations to individuals and organisations that are deemed to pose risks to US national security and foreign policy interests.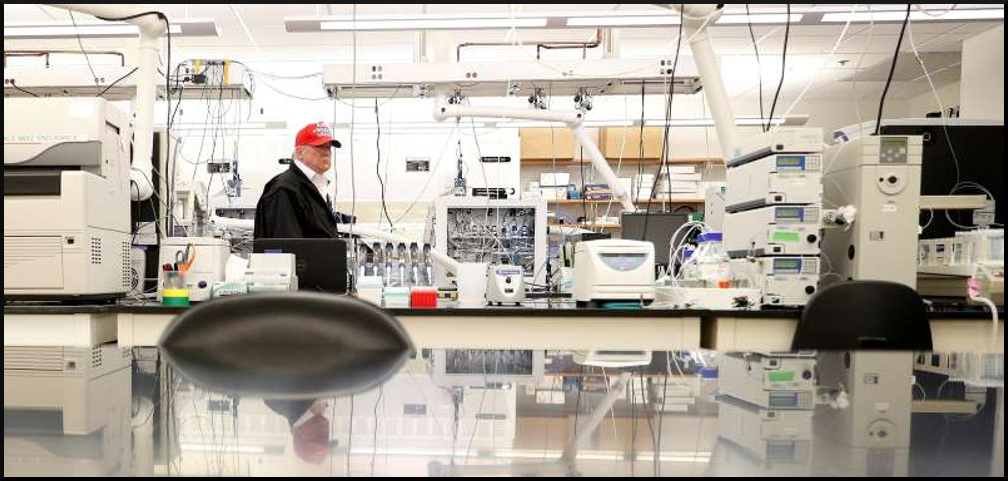 Since August 2020 U.S. has quickly targeting China and Russia, accuse those "stealing" U.S. vaccine research data without offering any evidence.
On July 16th, 2020 U.S. and U.K accused the so-called Russian "hackers" a prominent state-backed Russian hacking group is responsible for ongoing cyber-attacks against organizations involved in the development of coronavirus vaccines and other healthcare-related work. The attacks targeting universities, private companies and other organizations working on vaccine research and testing globally are designed to steal intellectual property amid the response to Covid-19, the officials said.
On July 21st, 2020 the U.S. government has accused two individuals of conspiring with Chinese intelligence to steal secrets from more than a dozen companies in the defense, health care, and other industries, the two accused hackers also probed the cyber defenses of at least four American companies working on coronavirus treatment and testing in recent months, the indictment alleged.
Again, on September 5th, 2020 "liberal" New York Times again publish another bizarre and racist 007-type spy story, claiming in order to steal U.S. COVID vaccine technology, Chinese spies pit against Russian spies, the dog-eat-dog intelligence wars between two countries intensified as they're expanding their efforts to steal American work at both research institutes and companies; accusing Chinese American scientists and Chinese overseas students in U.S. are "spies" for China.
Why? We need to understand the science and the stake behind the vaccine search, there are big stakes on pride, control and the money.
Who's Who in the Race for Vaccine
According to the World Health Organization (WHO), as of August 19th, 2020 there are more then 165 vaccine projects world-wide, 31 are on human trails, the urgency of the COVID-19 crisis had pushing scientists taking huge risk to rush on developing a vaccine within few months that normally could take years of research and testing before approve to the market.
Vaccines generally go through three stages of human testing before being approved for widespread use. The first two phases test it on relatively small groups of people to see if it causes harm. The last phase, known as Phase III, compares the efficacy of the vaccine to a placebo given to tens of thousands of people. That final stage is the only way to know whether a vaccine can prevent an infection, and how effective it is. And because it tests a much larger group of people, a Phase III trial can also detect more subtle adverse effects of a vaccine that earlier trials could not.
Out of 31 currently on human trail vaccines, 8 of them are at the final Phase III trail:
Moderna, the first U.S. company to conduct a Phase II trail, and if successful, they're expect to hit the market by April, 2021.
Biontech-Pfizer-Fosun Parma, a collaboration between a German-American-Chinese pharmaceutical companies working together, working on 30,000 volunteers at U.S., Argentina, Brazil and Germany, and if successful in trails they're expected to deliver about 100 million doses to the U.S. by December, 2020.
Cansino Biologics, a Chinese company that already released a vaccine for limited use on the Chinese military, also working on a phase II trails in civilian use in Saudi Arabia.
Astrzeneca-University of Oxford, a British-Swedish company, on Phase III trails in England, India, Brazil, South Africa and the U.S., and if their trails are successful, they're expected to start delivering emergency vaccines as early as October, 2020.
Wuhan Institute of Biological Products, working with Chinese state-owned company SinoPharm, the vaccine could be potentially be for public use by December, 2020.
SinoPharm second vaccine project is developed by the Beijing Institute of Biological Products, and they're expected to be ready for the market by December, 2020.
Sinovac Biotech, a Chinese private company, they're launching their Phase III trails in Brazil and Indonesia, and expected to be ready by March, 2021.
Murdoch Children's Research Institute based on Australia, based on the same vaccine that was developed hundred years ago to fight Tuberculosis, a new vaccine for the COVID.
Out of these "Top 8" projects, five  of them are Chinese pharmaceuticals or joint-project with Chinese company; and two vaccines had approved: China's Cansino Biologics for limited use; and the Russia's Gamaleya Research Institute had granted by Russian government for first regulatory approval at early August, 2020 after Phase II trail, Vietnam had already agreed to purchase anywhere between 50 to 150 million doses.
Currently China has one vaccine already for limited use, three for December, 2020, one for March, 2021 with only one not yet announced release date yet, China clearly leading the way on the Global vaccine research.
No doubt that the race of developing COVID-19 vaccines heats up to the final stage.
So, where's China in this global race? Out of six vaccine candidates in late-stage trials, three of them are from China, developed by Sinopharm, Sinovac, and CanSino Biologics.
The team is led by Chen Wei, a researcher from the Institute of Military Medicine of Academy of Military Sciences. "For a vaccine, safety comes first. Before we conduct human trials, we must do a lot of research. We can't make sure it's absolutely safe, but we will try our best to ensure the minimization of risks in clinical trials," said Chen.
Once the clinical trials are completed, it will enter the final approval stage. Scientists are hopeful that they'll have a vaccine by the end of 2000. And China has pledged to make its vaccine a global public good, meaning to make it accessible to and affordable for developing countries.
In addition, a Cuban developed vaccine has also shown very promising results, according to Telesur English the vaccine has proven effective in people confirmed with the COVID-19 virus.
At U.S. and western world several developers have made progress in vaccine development as well. For instance, AZD1222, a vaccine being developed by Oxford University and drug manufacturer AstraZeneca, has shown robust results in trials. It is set to supply Europe with up to 400 million doses.
Meanwhile, the first Phase 3 clinical trial of a coronavirus vaccine in the United States began last month. The vaccine, developed by the National Institutes of Health and Moderna, is one of the several candidates in the final stretch of the global race to find a vaccine. India's Prime Minister Narendra Modi recently announced that India is ready to mass-produce COVID-19 vaccines when scientists give the go-ahead.
According to The Wall Street Journal, three Western companies are set to have candidate vaccines enter Phase III trials at the summer of 2020. Moderna Inc. starts in July, a vaccine co-developed by Oxford University and AstraZeneca in August, and one by Johnson & Johnson in September.
The U.S. vaccine front-runner from Moderna has finalized plans for Phase III testing. The company plans to test 30,000 random people with either the potential vaccine or a placebo.
Another U.S. pharma company, Pfizer, released positive results from human trials with four different candidate vaccines.
Pfizer said one of its four vaccines produced neutralizing antibodies in volunteers.
Moderna reported its vaccine candidate also produced neutralizing antibodies, but antibodies may not be enough. Decades of immunological research has shown reliable protection against disease generally requires two types of immune responses – an antibody response, referred to as "humoral," and a second response called "adaptive" or "cell-mediated." A cell-mediated response involves the activation of specialized immune cells that kill a germ, instead of producing antibodies against them.
However, experts warn we should not get their hopes up too high because it still know too little about the virus, and the immunity from these vaccines might not last very long.
"Think about influenza. We have got quite used to taking a vaccine every year for influenza because there's a different strain that comes through every year. It might mean it's possible that if the immunity doesn't last very long, but we might have to have an annual vaccine for this coronavirus,"
said Richard Horton, editor-in-chief of The Lancet, the world's leading independent general medical journal.
There are still many questions surrounding the vaccine developments; for instance, who should get first access to these vaccines? The medical staff, the elderly, and who else?
And which countries should have priority access? Can the current capacity meet the huge demand? Perhaps, these discussions should be underway before people fight over these vaccines.
In order to faster development with fair distribution of the vaccine, the World Health Organization (WHO) calls for global framework to ensure equitable and fair allocation of COVID-19 vaccine.
It would give vaccine priority to nearly 2 billion people around the World, helping nations together for fair distributions, especially for developing countries with affordable price. Or vaccine as an open-source intellectual property, the "pattern pool," a country may grant a license to a public agency or a generic drug maker, allowing them to copy a patented medicine without the consent of the brand-name company that owns the patent—a much cheaper way to manufacture the vaccine locally.
As of August 24th, 2020 there're 172 countries and multiple candidate vaccines engaged in COVID-19 vaccine Global Access Facility. COVAX, the vaccines pillar of the Access to COVID-19 Tools (ACT) Accelerator, is co-led by the Coalition for Epidemic Preparedness Innovations (CEPI), Gavi, the Vaccine Alliance, and the World Health Organization (WHO) – working in partnership with developed and developing country vaccine manufacturers. It is the only global initiative that is working with governments and manufacturers to ensure COVID-19 vaccines are available worldwide to both higher-income and lower-income countries.
It's a noble call—except U.S. has refused to join, rejected any international involvement except pushing their own developing vaccines.
China's Vaccine Development Achievements
China has shown its scientific power and determination to fight the pandemic in any cost
Unlike the U.S. media hype about U.S. and U.K development of their vaccines, make it sounds like they're the only countries currently developing the products with promising results. One of the most advanced in its development process is CoronaVac, a vaccine candidate developed by China's Sinovac Biotech. Sinovac has partnered with Brazil's Instituto Butantan to conduct an advanced Phase III human trial, involving 9,000 volunteers. That trial is scheduled to begin this month.
CoronaVac is an "inactivated" vaccine, meaning its main ingredient – the "antigen" the immune system is supposed to target – is the killed virus.
According to FiercePharma, a website that covers the pharmaceutical industry, CoronaVac is one of five Chinese-developed COVID-19 vaccines now in human clinical trials.
"We all want this to be over," said Tedros Adhanom, head of the World Health Organization, at a briefing in Geneva this week. "But the hard reality is this is not even close to being over. Although many countries have made some progress, globally the pandemic is actually speeding up." he added.
Just like Russian-developed Sputink V, China also the first in the world to authorize the use of an experimental COVID-19 vaccines for use by its military forces at August, 2020; in addition, Chinese officials say some vaccine candidates could be approved for emergency use to protect high-risk civilians as early as September, 2020.
As of September 5th, 2020 there're 50,000 people in 115 countries have been trail vaccinated by Chinese experimental vaccine; China is confident that the vaccine will be safe and on the market by the end of the 2020.
U.S. declares a vaccine war on the world
Question: Why we never heard about Chinese, Russian and Cuban drugs?
Answer: It's not science but just a western vaccine imperialism who want to control the money and the world.
On May 2000 major U.S./Western pharmaceutical companies shoot down the W.H.O. global call for international COVID-19 open-source vaccine development and distribution collaboration; instead they bypassing the international organization to sign agreements with many countries for future vaccines selling rights, aim to exclude other vaccines from entering these countries.
The western pharmaceutical companies are calling the W.H.O. collective vaccine development efforts "nonsense," said Pfizer chief executive Albert Bourla who're one of the vaccine developer, calling international open-source vaccine development, committed by China, is "dangerous." Also echo by AstraZeneca, the British pharmaceutical company, another and front-run COVID vaccine developer.
Although other countries agreed on the necessity of establishing a patent pool, the United States tried to extend its hegemony to global health. Trump launched a new vaccine war, but not against this virus, but against the world and the forefront two vaccine developers: China and Russia to prevent their products from entering the world market; many call this U.S. against the world.
Trump, who had been brought the U.S. into total COVID disaster, hope to reverse his fortune by early vaccine distribution before the November 2020 election. After vaccine for"America First" the rest of the world must line up to wait and pay for U.S./Western Big Pharma's expensive vaccine by blocking China/Russia's products, and smashing W.H.O.'s efforts on building the open-source vaccine patent pool.
There're no secrets that Trump's tough love against China and W.H.O. has lots to do with extensive ties with medical industrial complex.
According to STAT, many leaders of influential U.S. medical societies have extensive financial relationships with drug and device makers, raising concerns about the extent to which industry may influence research, physician education, and treatment guidelines, a new study finds."72% of 328 individuals who led 10 top professional societies had financial ties with industry." Over a recent five-year period, these individuals collectively received almost $130 million. And the median amount of money involved for each person during that time was more than $31,000, according to the study, which was published in The BMJ. No organization had a leadership free of financial ties. STAT report found.
Big Pharma's big money to the medical experts/politicians will certainly leads to favorable (A.K.A. the bribe) contracts, and more expensive drug prices at the end.
Trump's administration's "Operation Warp Speed" a well-funded project to develop COVID-19 vaccines, had accused by Congress to make major decisions behind closed doors for choosing vaccine frontrunners developers and medical suppliers for unchecked big funding, with lots of questioning:
On July 28, 2020, the Trump administration awarded Eastman Kodak a photo company, a $765 million grant for manufacturing ingredients used in pharmaceuticals, a near bankrupt company never involved in medical products. Within two days, the company's stock price had gained as much as 2,189% from its price, and the company CEO had made lots of money from selling his stock. Few weeks later, the deal was put on hold amidst allegations of insider trading by Securities and Exchange Commission (SEC).
Novavax, the Maryland-based bio company, which has never brought a product to market before, received $1.6 Billion on July 7th 2020, one of the biggest deal under Trump administration's Operation Warp Speed, to produce 100 million doses of COVID vaccine by the beginning of 2020.
Moderna, another Massachusetts-based biotech upstart, hasn't yet developed an approved drug, its chief can be excoriating and until recently investors were disillusioned, became one of the super-star of the U.S. vaccine development. Receiving $483 million on April 16th, 2020, again $472 million on July 26th, 2020, and another whopping $1.53 billion to order 100 million doses of COVID mRNA-1273 based COVID-19 vaccine that yet had any scientific proof that its efficiency.
It's clear that in quest for quick vaccine, Trump makes 'big bet' on company with unproven technology offered by private companies; Why? U.S. is far leg behind the vaccine-race with China, Russia and Cuba.
China Beat U.S. Vaccine Developing Model
The Trump administration awarded massive contracts to private corporations like Novavax, Pfizer, and Moderna, while Trump reportedly offered "large sums of money" for exclusive rights to a vaccine being developed by a German firm so it could be sold for profit.
While U.S. has spending large amount of money to develop the vaccine and drugs for coronavirus, yet Trump Administration's never criticize his far-right base who're hard-core anti-vaccine and anti-mask.
According to September 1st, 2020 New York-based global survey firm Ipsos about citizen's intentions to get vaccinated against COVID-19. Globally, 74% adults surveyed said they'll get the COVID-19 vaccine when available. Highest county is China (97%), others includes: Brazil (88%), Australia (88%), and India (87%). On the other hand United States (67%) amount the lowest, along with Russia (54%), Poland (56%), Hungary (56%), and France (59%).
While it'll take years to see the outcome of the vaccine efficiency, at this Round One, the Chinese, Russian and Cuban state-led COVID-19 vaccine developments had clearly beat U.S./Western government-funded private vaccine projects.
Bonnie Castillo, executive director of National Nurses United (NNU) warns that U.S. premature release of COVID-19 vaccine could be a dangerous experiment on the American people. "We have already seen far too many examples of the erosion of scientific integrity and the subversion of public health through political intervention and pressure by the Trump administration and corporate employers." Castillo said in a statement on September 3rd, 2020.
As Trump pushing his corporate-vaccine to the market by November 1st, 2020 just right before the election, and won't join the international vaccine effort initiated by W.H.O., many health experts predict that U.S. instead of try to control the international vaccine market, they're going to the wrong direction, will ultimately isolate U.S. from the global pandemic fights.
---
 Lee Siu Hin, long-time Chinese-American low-pay immigrant workers activists, currently working on community health project; is the national coordinator of National Immigrant Solidarity Network http://www.ImmigrantSolidarity.org, Action LA Network http://www.ActionLA.org and China-US Bi-National Activist Solidarity Network http://www.chinadelegation.org Lee's book "Capitalism on a Ventilator — Impact of COVID-19 in China vs. U.S." will be co-publish with International Action Center at August, 2020. For more information email: twitter @siuhin